:: Kiki (Nikita) ::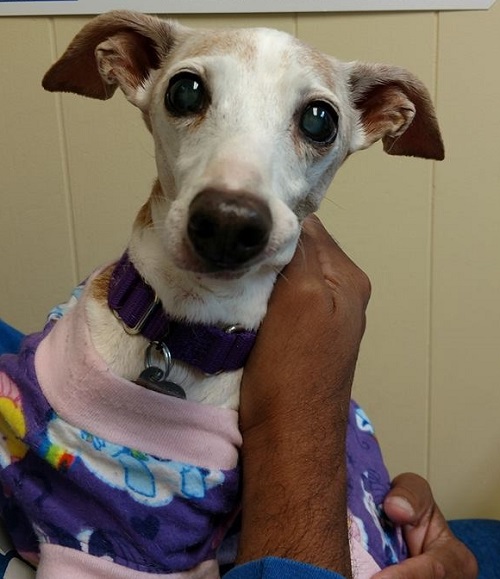 14 Year-Old Female
Kiki (Nikita) came into rescue in October 2016 from the Lafayette hoarder bust. She did not do well after her oral surgeries (to remove bad teeth and then to remove some old roots), so we held off on her less urgent surgeries to give her time to adjust. Thankfully, she did really well with all of her surgeries.

She is estimated to be about 14 to 15 years old, and is pretty healthy based on her blood work results. She is a great girl, very sweet, and will cuddle on the couch. We started having one person feed her in the house for her regular meals because it seemed to work better for her and she is very attached to that person in the household. Not sure if it is related to feeding or she likes the male human. The hoarder was a male.

Kiki has limited vision, but her hearing seems to be pretty good yet. Since she came from such a horrible life she is very skittish and even is still scared of her foster parents at times. She will be a flight risk the rest of her life, meaning she may panic suddenly and get loose. She would be very difficult to catch. Fostering her has been very rewarding, but they have had to be very diligent about her not getting loose. She will go outside in a fenced yard and come back in but did so only with a lead and the foster parents for the first couple weeks until she bonded.

She is OK with other IGs and even cats. She isn't fond of them when they are playing though. She will seek out her foster parents for reassurance when other IGs are playing in the house.

For more information about Kiki, please contact Kim at topironhorse2000@hotmail.com.