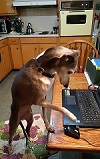 Raske's Corner Welcome to Indiana Italian Greyhound Rescue, a chapter of Italian Greyhound Rescue Foundation (IGRF)! Raske has so much to tell you - check out all of our pages and activities!
&nbsp
* * * * *
&nbsp Sheltering in Place
We are all in one way or another affected by the COVID-19 virus and the restrictions we need to follow in order to help our communities remain safe and survive.
Take some time to unjoy the little things... especially those who weigh around 10 to 25 pounds, give or take...!
Your pups would dearly love to have more of your attention during this time! Take a walk in a park, respect social distance of other humans, and enjoy exploring nature with your pups. Stay safe, and we look forward to seeing everyone later in the summer.

* * * * *
Circle of Caring
Be a continuing donor - consider making a recurring donation to IG Rescue! View the video for the Circle of Caring here. All the Iggies in the video are from recent mass intakes across the country. These pups and many like them will directly benefit from your recurring donations.

&nbsp
Thank You, Thank You, Thank You for your support, from the depths of our hearts!
* * * * *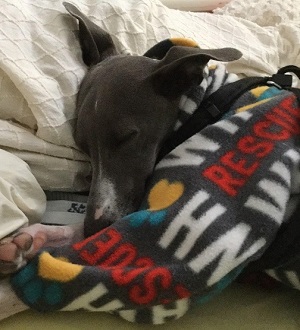 &nbsp Lemmie's Jemmies are here!
Lemmy (a.k.a. Lemonjello Lemonlips) has new 'Jemmies' (a play on the word Jammies) and loves them!!

He says that, for a limited time, you can get some made for your pup, too...
Here's how!
* * * * *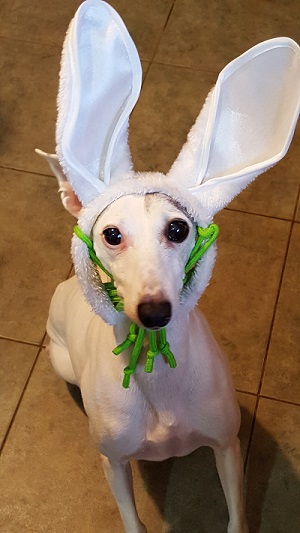 Happy Easter!
Give your Iggies a great big hug and kiss!

* * * * *
Have you considered a senior pup?
Seniors still have lots of love to give and most still have tons of energy. We have lots of amazing senior pups that are looking for their forever homes. Will you open your home and heart to a senior pup? * * * * *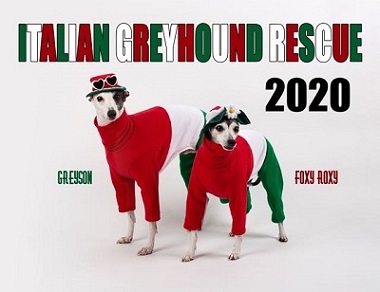 &nbsp
Order your 2020 IG Rescue Calendar
today! All proceeds go to Italian Greyhound Rescue to help pay veterinary bills for the Iggies in need.
* * * * *