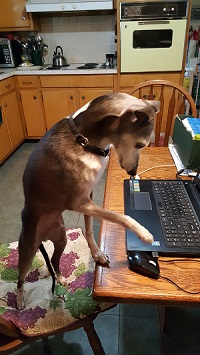 Angel Raske is excited to tell you
we have several Iggies ready to go to forever homes... Check out our Available Rescues page. We also have a few in the wings that will be ready for adoption soon.
* * * * *
Circle of Caring
Be a continuing donor - consider making a recurring donation to IG Rescue! View the video for the Circle of Caring here. All the Iggies in the video are from recent mass intakes across the country. These pups and many like them will directly benefit from your recurring donations.

Thank You, Thank You, Thank You for your support, from the depths of our hearts!
* * * * *
* * * * *
Have you considered a senior pup?
Seniors still have lots of love to give and most still have tons of energy. We have lots of amazing senior pups that are looking for their forever homes. Will you open your home and heart to a senior pup?

The 2023 IGtoberfest
came and went SO fast!
This year's event was a lot smaller, but we truly enjoyed seeing everyone who came and had a relaxing afternoon play date with the Iggies and two Whippets. We are looking forward to another event next year. Please let us know if you have a preference between July, August or September for the event.



* * * * *
IGRF is proud to present a 13 month calendar including a 12 month single page calendar insert. In a sense you will receive two calendars for the price of one: the full calendar plus the 12 month insert! Both are presented in full color!!! This calendar is chock full of Italian Greyhound photos that are GORGEOUS!!!! In addition to IG photos are pictures of people's other pets. IG folks love a wide circle of other pets and you won't believe the variety of animals that are celebrated in this calendar. Also included are two pages devoted to IGs who have crossed the Rainbow Bridge. These dogs are so loved and will remain in our hearts forever!!! This is a calendar chock full of LOVE!!!!!


The price will be $12 per calendar. Shipping within the USA is free. Your calendar will be shipped by Susan Frumerie Pretto...who does an outstanding job!!!! Please go to http://www.supportigrescue.com/calendar and click on either the "One Only" PayPal icon or on the "Two or More" PayPal icon. The great news is that your calendar payments will go straight to the Italian Greyhound Rescue Foundation account. Because of your orders.....MANY little guys will receive the veterinary care that they need!!!!!!
If you prefer to pay via check, please write directly to Judy Longhouse and she will send you directions for ordering via check. Judy's e-mail address is: LonghouseJ@aol.com
THANK YOU ALL FOR YOUR SUPPORT!!!