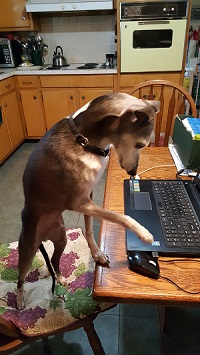 Raske has so much to tell you - check out all of our pages and activities!
* * * * *
&nbsp Sheltering in Place
We are all in one way or another affected by the COVID-19 virus and the restrictions we need to follow in order to help our communities remain safe and survive.
Take some time to enjoy the little things... especially those who weigh around 10 to 25 pounds, give or take...!
Your pups would dearly love to have more of your attention during this time! Take a walk in a park, respect social distance of other humans, and enjoy exploring nature with your pups. Stay safe, and we look forward to seeing everyone later in the summer.

* * * * *
Circle of Caring
Be a continuing donor - consider making a recurring donation to IG Rescue! View the video for the Circle of Caring here. All the Iggies in the video are from recent mass intakes across the country. These pups and many like them will directly benefit from your recurring donations.


Thank You, Thank You, Thank You for your support, from the depths of our hearts!
* * * * *
* * * * *
Have you considered a senior pup?
Seniors still have lots of love to give and most still have tons of energy. We have lots of amazing senior pups that are looking for their forever homes. Will you open your home and heart to a senior pup?

Stay Paw-sitive!
Hello IG supporters and fans! Ali, who is an IG rescue volunteer in Nebraska, is donating her time and talent for a fundraiser for Italian Greyhound Rescue Foundation (IGRF). She is making "Stay Paw-sitive" vinyl stickers in a variety of beautiful colors and also black and white. It is a great way to show your love of dogs but also providing encouragement to those around you. They can be placed on laptops, front doors, rear car windows, or any place where there is a smooth, hard surface.


These are approximately 7" x 4" and cost $5.50 each, which includes shipping. Every $5.00 will go directly to Italian Greyhound Rescue Foundation! The vinyl material has been donated to us so we are hoping for a successful fundraiser.


Thank you for helping to support Italian Greyhounds throughout the U.S. with their medical care!


For any questions or to place an order, please email Ali: Amckiernan08@gmail.com.
* * * * *

Lemmy (a.k.a. Lemonjello Lemonlips) has new 'Jemmies' (a play on the word Jammies) and loves them!!


He says that, for a limited time, you can get some made for your pup, too...
Here's how!