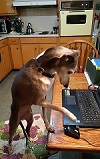 Raske's Corner Welcome to Indiana Italian Greyhound Rescue, a chapter of Italian Greyhound Rescue Foundation (IGRF)! Raske has so much to tell you - check out all of our pages and activities!
&nbsp
* * * * *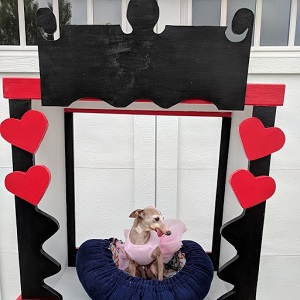 &nbsp
Volunteers Needed! for the 2019 Iggy 500
KISSING and photo ops booth!
Contact Ruth Beall (rhbeall@hotmail.com) if interested!
* * * * *
Circle of Caring
Be a continuing donor - consider making a recurring donation to IG Rescue! View the video for the Circle of Caring here. All the Iggies in the video are from recent mass intakes across the country. These pups and many like them will directly benefit from your recurring donations.

&nbsp
Thank You, Thank You, Thank You for your support, from the depths of our hearts!
* * * * *
Have you considered a senior pup?
Seniors still have lots of love to give and most still have tons of energy. We have lots of amazing senior pups that are looking for their forever homes. Will you open your home and heart to a senior pup?
* * * * *

&nbsp
We're getting ready for the
2019 Iggy 500! Save the date and let all your Iggy friends know!
* * * * *
&nbsp Titan is SO happy that Summer is here!
Titan is ready for fun in the sun !

Summer is finally here, and our fosters are so happy to have warmer weather! With the warmer weather, many of us will be taking our Iggies along on shopping trips, road trips, and other activities. When you do, Titan asks that you please keep their safety in mind. Make sure the collar or harness and leash are securely fastened and properly adjusted so that a startled or adventurous Iggy can't get loose and run free.

Be sure not to leave your pup in the car! With an outside temperature of 70 degrees, the car temperature will rise to 89 degrees within 15 minutes, and 104 degrees within 30 minutes. The temperature goes much higher with an outside temperature of 80 degrees or more. There is no set temperature that will kill a dog, but any temperature over 90 degrees inside a car can cause serious heat injury and eventual death. Dogs cannot sweat, so they cannot cool themselves down without access to water.
* * * * *
We have many available Iggies looking for their furever homes! Check out our "Available Italian Greyhounds" pages to see who is waiting for you!