Bella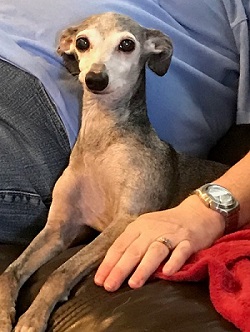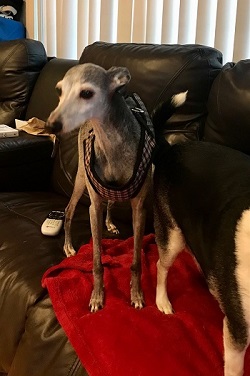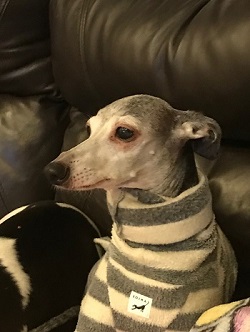 Bella was relinquished into foster care by her owner. The family had her since she was a puppy and when the daughter left home, she was to take the dog. After this move, Bella's potty habits stagnated and she rebelled against being crated.
Bella has learned to reliably use the doggie door but does NOT like to go out in cold or wet weather — typically Iggy behavior. She will reliably use potty pads when we place them down near the doggie door when it's cold and wet outside. Standing in the yard and encouraging her to potty helps as well.
She now readily goes to her crate which has a comfy bed and blanket. We close the door and give her a dehydrated liver treat that she likes. She always goes out before we leave and immediately after we return. She will cry occasionally at night when crated and needs to go outside. Our schedule is such that she is never crated more than 2 or 3 hours.
Bella is a 13 years young Iggy who is very social. She runs and play bows often. She enjoys toys, bones, and chew toys . Bella has a big Iggy voice and will bark when she hears outside noises or someone comes to the door. She is a good little watch dog. She gets along with our three dogs but will jostle for attention if one of the other dogs invades her space. Bella is content to hang out on the couch with a blanket and would be a good bed buddy (although we don't sleep with fosters in case adopters don't want to do that).
Bella is social and enjoys the company of other dogs. We think Bella would do well with another doggie friend. If she were an only dog for someone who was not home for most of the day, we are concerned she could regress to being fearful of crating. If adopters have a flexible schedule or are home full time, Bella might be a good only dog.
She is very smart and treat motivated. Make sure to keep food items up high as she's pretty curious about people food. We don't allow begging or feed people food from hand.
Bella weighs about 12 lbs and is well proportioned and petite. She has had a dental cleaning, is current on vaccinations and has been spayed. Bella rides well in a car.
We do not have children or cats so we cannot say how she would be with them.


If you are interested in Bella, please contact Kim at topironhorse2000@hotmail.com.
Thanks for visiting our site!
Ruth Beall :: e-mail: rhbeall@hotmail.com :: Fort Wayne, IN